Wilmington & Western Railroad
All Things Delaware
5/17/2009 - 100th birthday celebration for Wilmington & Western Railroad's Engine 98 steam locomotive.
The first steam locomotive with a 4-4-0 wheel arrangement was built in 1837 and the design lasted for nearly a century. The 4-4-0 was a popular choice for nearly every American railroad, so much so that the wheel arrangement soon earned the name "American Standard," or simply "American."

No. 98 was built by the American Locomotive Company of Schenectady, New York, in January 1909 (construction #45921) for the Mississippi Central Railroad (MSC) in Hattiesburg, Mississippi.

For more information visit:
http://www.wwrr.com/museum/98/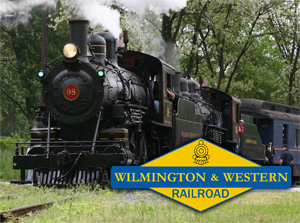 11/11/2007 - 100th birthday celebation for Wilmington & Western Railroad's Engine 58 steam locomotive.
No. 58 was built by the Baldwin Locomotive Works of Philadelphia in October 1907.
Visit www.wwrr.com for more information on the railroad and to view their schedule.